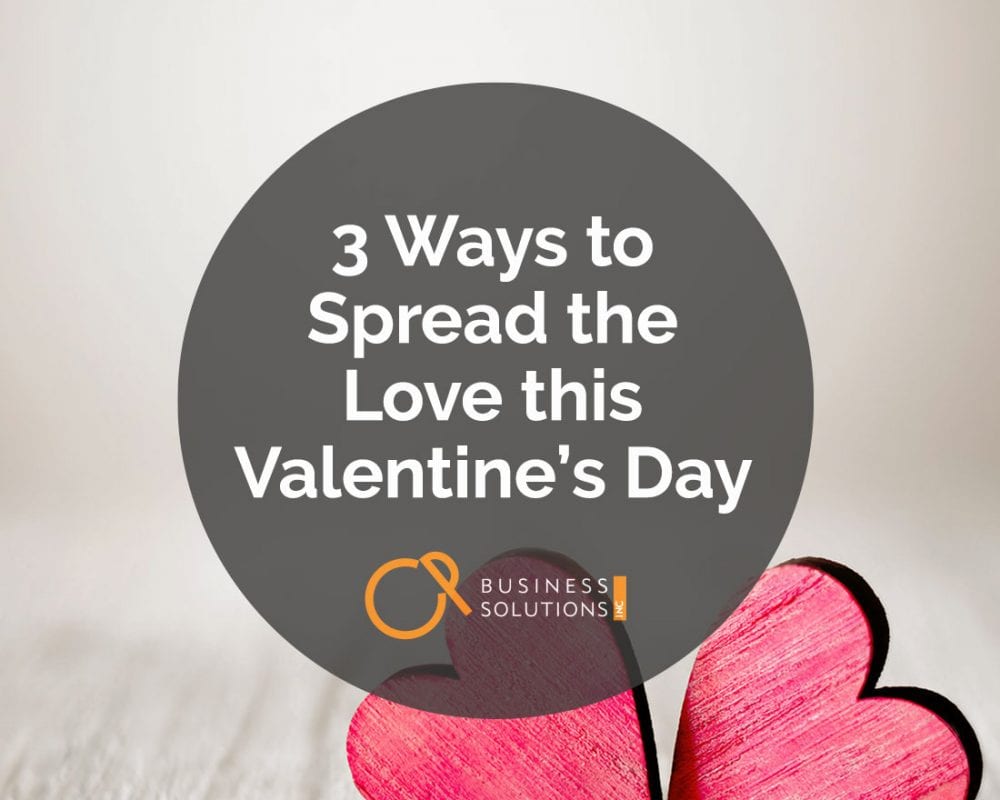 Google "Valentine's Day" and you'll get nearly 93 million results. That's a lot of teddy bears and hearts!
But February 14th doesn't have to be just about couples. Why not use this Valentine's Day to show your clients, customers and colleagues a little kindness too? Here at CP Business Solutions, we're all about spreading the love, so here are three ideas to get you started.
Send a Social Media Shout-Out

Pick a person (or two) and a platform (or three). Craft a heartfelt tweet, letting a specific client know how much you appreciate their business in 140 characters or less. Post a pic on Instagram of a recent event and thank your customers for coming out. Or write a Facebook post praising the extra mile your colleague went on a recent close-to-their-heart project. Be original, thankful and sincere. An in-person "Thank you!" is always appreciated; an online acknowledgment shows you value much more than a person's business.

Make a Referral

What better way to show you care than to reward someone's business with…more business? We come into contact with so many talented people on a daily basis, but we don't always think to pass along a phone number or business card. Take a minute to consider the clients and customers who come to you, then think of who you might send to them. Write a note detailing why you recommend them. Send an email explaining their strengths. Pass along that business card with a compliment. Word of mouth is still one of the best ways to get new business. Your customers have been good to you, so this Valentine's Day, be good to them with a persuasive and genuine referral.

I went skiing wearing my brand new Down East Mittens. They were AMAZING! Since I bought them, I've been telling everyone about them. So warm, so cozy, such whimsical design with fantastic quality. I'm buying them as gifts for tons of people.

When in Doubt, Chocolate is ALWAYS a Good Idea

We have yet to meet someone who doesn't appreciate a little sweetness in their life. And much as we believe it's the thought that counts, you really can't go wrong with a gift of chocolate when you want to show someone you appreciate them. But forget the red velvet heart-shaped boxes. Be creative and make your customer appreciation gift as personal as possible. Got a colleague who loves to travel? Pull together an assortment of imported chocolates. A customer who's name starts with "M"? Hunt down a chocolate initial and add it to a basket of M&Ms. A client who's all about the environment? Go organic. The more thought you put into it, the sweeter it will be! (And just for the record: WE love chocolate too!)

Sweet Success! Our creative, inspiring client wanted a marketing idea as unique and personal as she is. So we created chocolate pieces, branded with her logo and developed accompanying marketing material for organizations "craving" success. These packages were a sweet success!
So get out there and spread the customer appreciation love this Valentine's Day! And if you'd like to explore more ideas for how to show your clients you care, give CP Business Solutions a call. We can help you plan a social media customer appreciation campaign. Or help you boost your brand, including personalized stationery to write those referrals on. We can even source some pretty spectacular chocolate. We may not have 93 million ideas…but we'll find the perfect one for you!