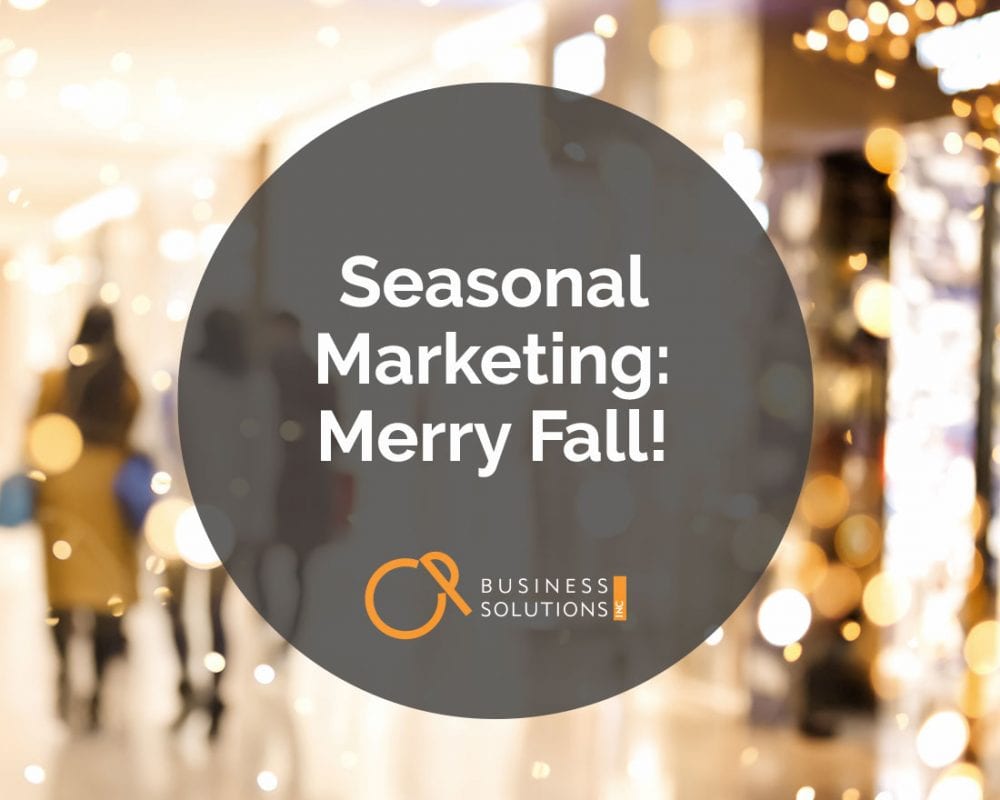 We know that the kids are barely back to school and that Halloween has yet to arrive. And we realize that you might cringe when we ask, "Have you given any thought to your holiday marketing campaign?" (We cringed a little too when we saw Halloween candy on display next to Christmas decorations at Costco the other day.)
But we've said it before and we'll say it again: It's always best to plan ahead. And planning ahead becomes even more important prior to the holiday season.
Why? Because…
The holidays will be upon us before you know it!
Once we officially hit fall, the weeks seem to fly by until—the next thing you know—it's a new year. And if you haven't figured out your holiday marketing campaign well in advance, you might very well miss your chance. Whatever you're considering (from a social media campaign that runs through the month of December to a promotional gift for your customers or simply a traditional holiday greeting card in the mail), there are details to be worked out and deadlines to be met to make it happen. By taking the time to think about your holiday marketing needs now, we can help you better map out an effective plan. Plus, it's a lot less stressful to do it this way, as opposed to last-minute, because…
The holiday season is stressful enough!
Family, parties and gifts, oh my! We all have a lot on our plates at the end of the year, and the holiday season can become a smorgasbord of stress. Don't let your holiday marketing campaign become just another stressor by leaving it until the last minute. Working in a rush is stressful. And when you're stressed, you're more apt to make mistakes. You don't want that to happen and neither do we! Planning ahead gives everyone the time to look at everything from every angle, ensuring the very best and highest quality solutions for your holiday marketing needs. Plus, it could save you money. Which is great, because we all know…
The holiday season is expensive!
The most wonderful time of the year can also be the most financially burdensome. Between holiday food and drink, ugly Christmas sweaters, and gifts for everyone from your great aunt to your dog-walker, there's a lot of money trading hands this time of year. But don't forget: Time is money. And very little time costs LOTS of money. Whenever work is performed in a rush there is a higher price to pay—literally, because of premium rates charged by various suppliers and figuratively, if, because of poor planning, you end up with a less than ideal product. So, again, leaving your holiday planning until the last minute could end up costing you. Planning ahead allows you to forecast your finances: both what you have to spend now and what you might wish to spend later. Because every little bit helps. And…
Even Santa's little helpers could use a little help!
Yes, we've been compared to busy little elves! And we've been known to have produced some last-minute holiday miracles in our time. But we'd really rather help you plan ahead…for everyone's benefit!
We know you've got other pressing things on your mind at the moment (such as what you're going to dress up as for that Halloween costume party). So let us help you get "holiday marketing plan" checked off your to-do list NOW. We'll help you find fun, creative and fresh solutions for the holiday season and into the New Year. This way, when the holidays actually arrive, you can sit back, relax and enjoy them worry-free, knowing that your holiday marketing campaign is wrapped up with a pretty bow and ready to go.