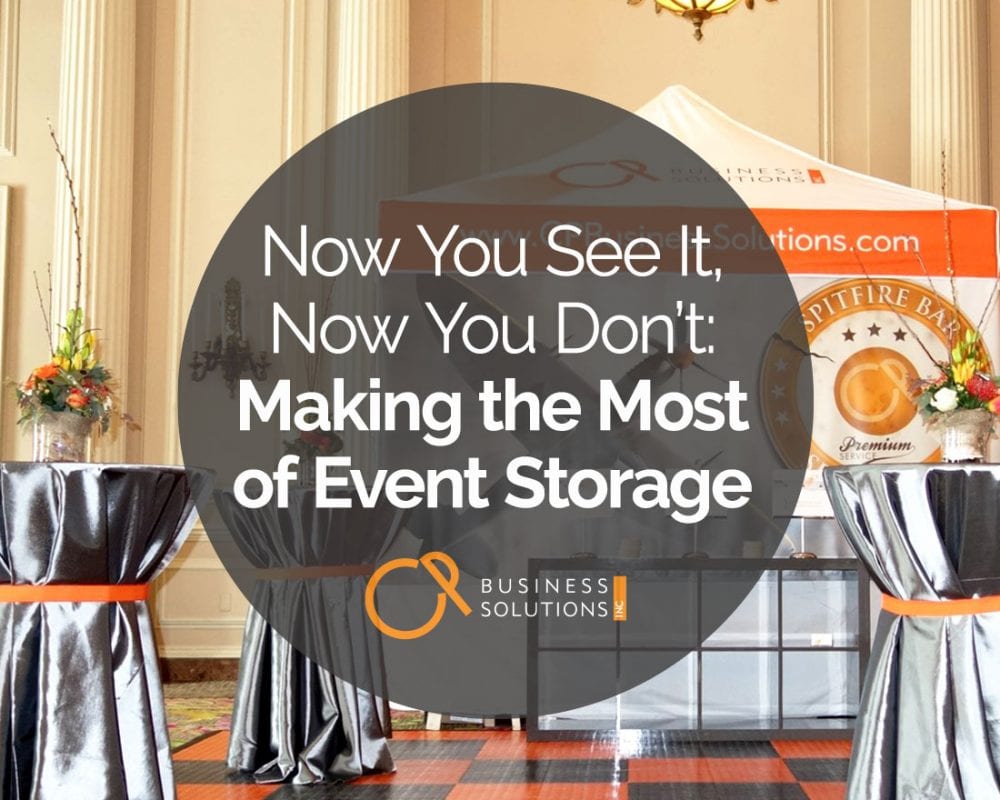 You see it all the time at conferences, trade shows and other events: ugly, ripped-open cardboard boxes shoved in a corner and overflowing with promotional items; stacks of extra brochures toppling over in a mess on too-small tables; personal items like coats and handbags tucked under chairs… not really the look you're going for if you're trying to put your best corporate face forward.
That's why we like to plan ahead for all kinds of storage when designing displays and exhibits for our clients. Sometimes it's hidden and other times it's right in front of you. But every time we make sure storage is taken into consideration. Here are a few of our favourites.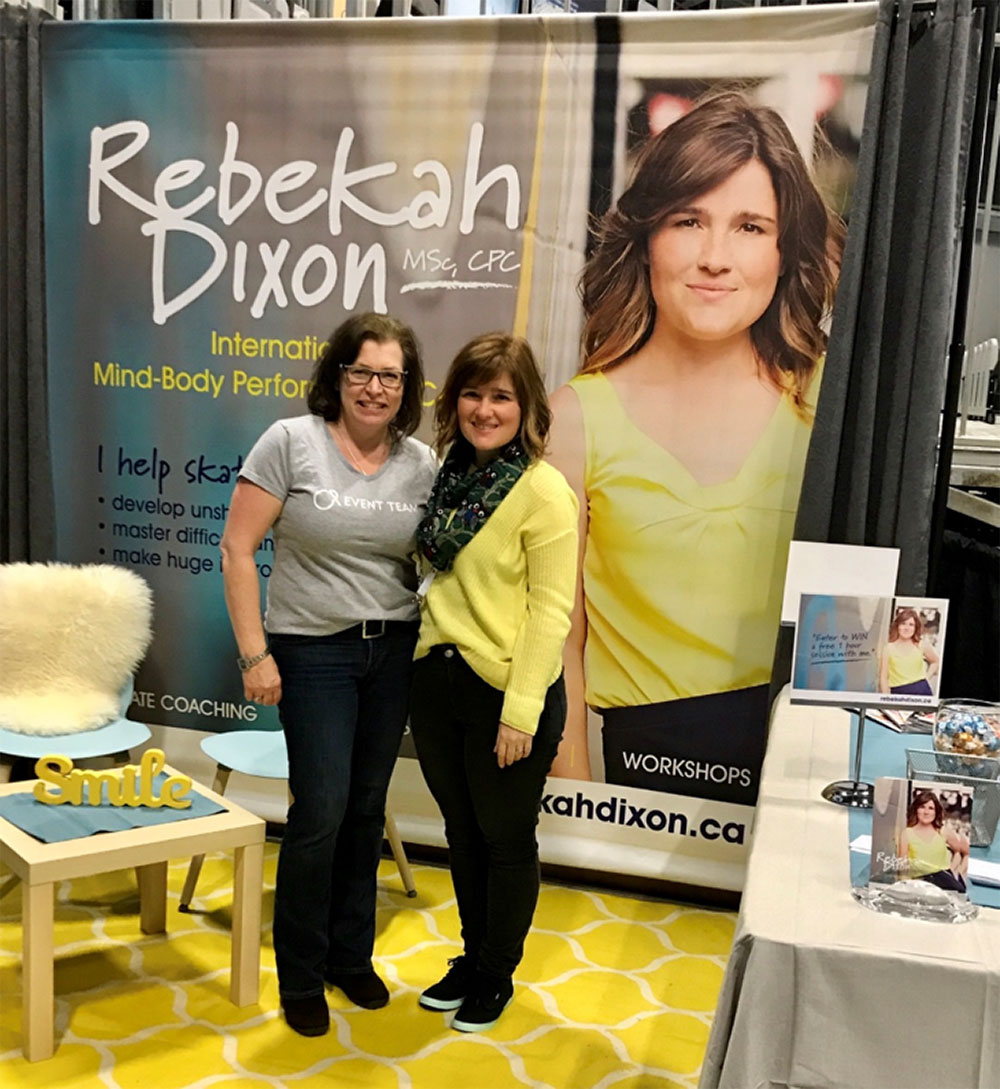 Tucked Under Tables: Rebekah Dixon
Tables are a standard offering for exhibitors at events… and sometimes, that's all you need. Underneath is enough space to store pretty much anything you might need to have on hand. But at the very least, tuck your stuff away and cover it up. You want to draw visitors' eyes to you and your display, not to your storage boxes or the Styrofoam container holding the remains of your hastily eaten lunch!
At this year's Skating Nationals in Vancouver, for Mind-Body Performance Coach Rebekah Dixon's display, we went with a flowing, doubled-up, taupe-over-black, to-the-floor table covering for a few reasons:
It softens the look of the table more than a single table cloth would have (in keeping with the cozy, inviting feel Rebekah's entire display evokes).
It picks up on the neutral colours in the background of Rebekah's brand, allowing her promotional items to stand out while providing the necessary hidden storage underneath.
It's all in the details:
Storage for your promotional items matters too. We chose a clear glass candy dish to show off the icy blue and gold wrappers of the chocolates Rebekah handed out (this time picking up on the dominant colours of her brand). We'd like to tuck into a few of those!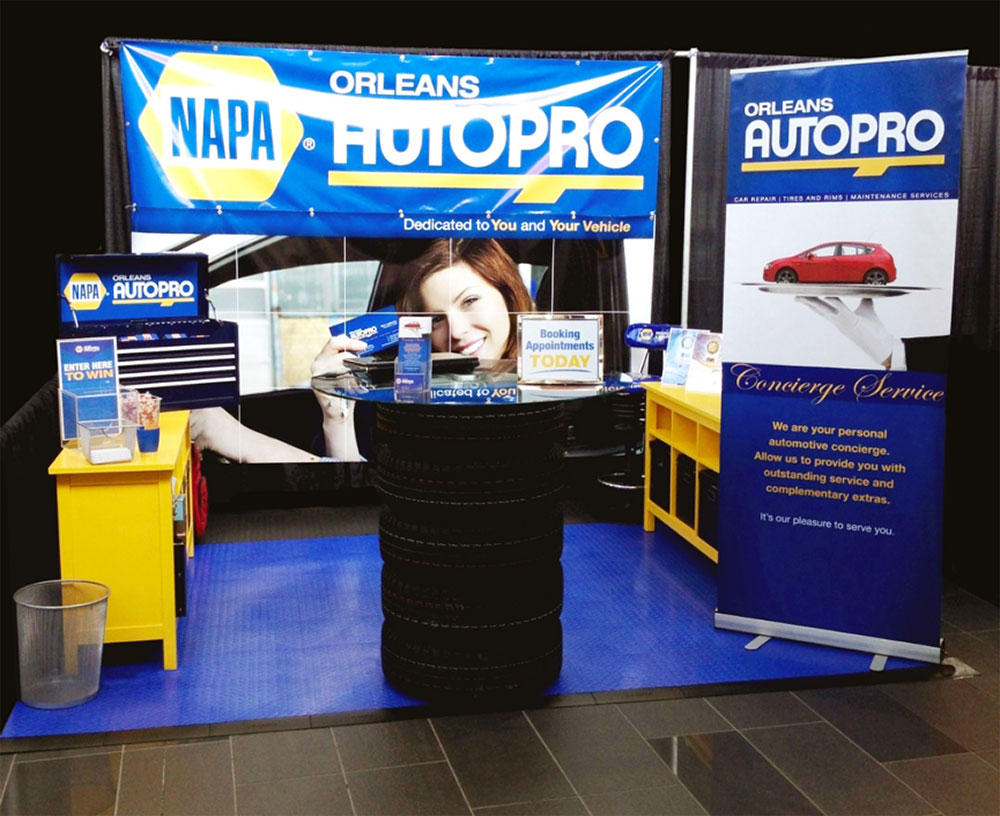 Fun and Functional: Orleans AutoPro
Just because tables are available doesn't mean you have to use them. For Orleans AutoPro's exhibit, we decided to forgo the standard 6-foot table on offer in favour of a pair of canary yellow console tables. This daring duo provides a fun pop of colour, and adds a nice balance and symmetry to the display, while providing ample storage.
The console tops hold promotional literature and treats, and provide a flat surface for filling out ballots.
Open shelves provide easy access to extra brochures, and other items that need to be kept close at hand.
Lidded boxes in the lower cubbies provide closed storage for other necessities that don't necessarily need to be on display.
It's all in the details:
See that stack of tires? Turning them into a bar-height pedestal table was a great way to add visual interest to this local auto service provider's display, and to invite visitors to the booth to linger awhile. But they served a practical purpose too: hidden inside were all of the computer wires that allowed the AutoPro team to set up their laptop in the middle of their display without fear of tripping anyone up. Who says fun and functional can't go hand-in-hand?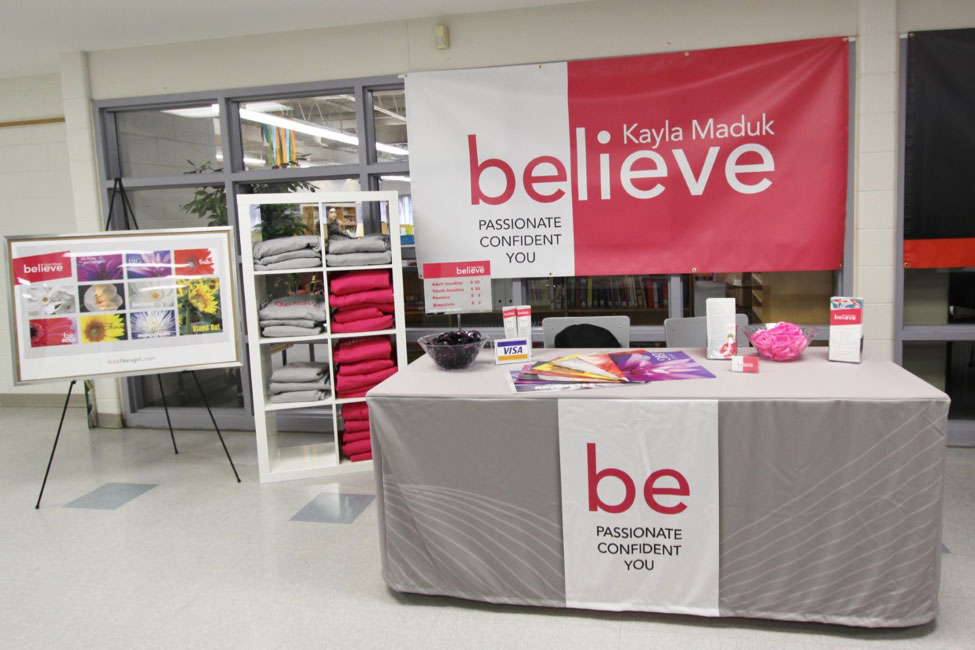 Kickin' It: Kayla Maduk
Figuring out what kind of storage would be best for your display doesn't have to be an either/or decision. For three-time Taekwon-do world champion and motivational speaker Kayla Maduk's exhibit, it just made sense to use both a table and a shelving unit.
The traditional table displays Kayla's promotional material, while the fitted tablecloth hides a multitude of treasures.
The simple white IKEA shelving unit shows off the hoodies Kayla has for sale.
It's all in the details:
Everything about Kayla says passion and confidence, and her exhibit—including her storage—needed to reflect that. The strong colour blocking of pink, white and grey makes a passionate and confident statement. And notice how the tailored, fitted table covering echoes the strong lines of her logo, her promotional items, and the squared-off cubby shelving… Coincidence? We think not!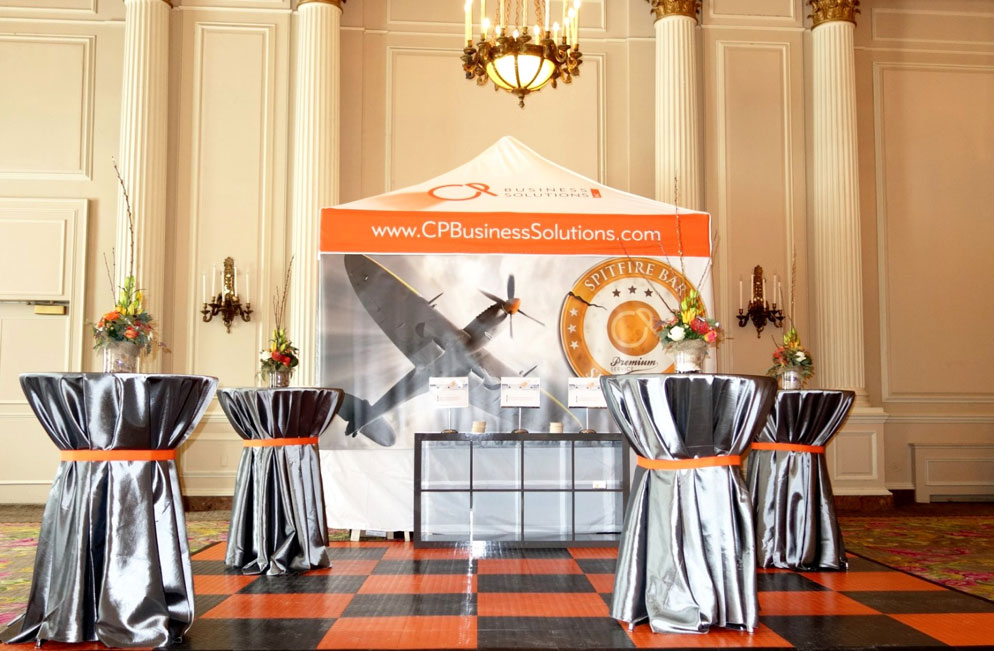 Practical and Pretty: CP Business Solutions Inc.
We'd be remiss in our role as corporate image strategists if we didn't toot our own horn on this one! We're pretty proud of our CP Biz displays and the storage options they provide, and here's why.
Sometimes you have to think inside the box—or in our case, the tent.
At the 2014 Victory Ball at the Chateau Laurier, the CP tent was used as a back wall for our Spitfire Bar display. It not only worked with the grand proportions of the ballroom, but also provided 100+ square feet of hidden storage space… every inch of which we used!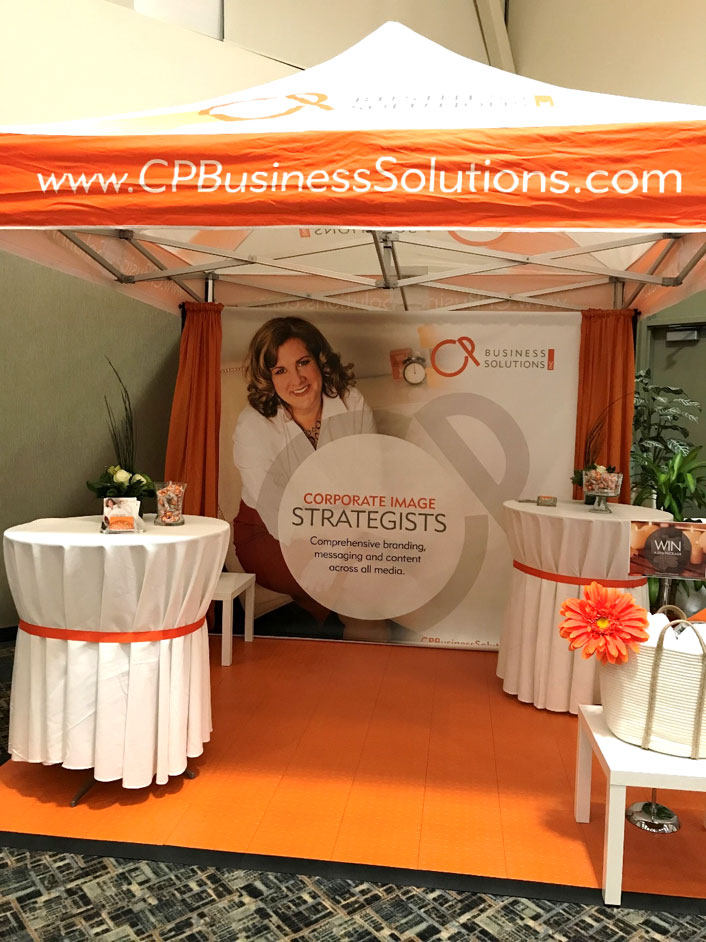 At Lisa Larter's Money, Mindset & Marketing event this fall, we pulled out and put up our trusty tent again. This time, however, we used the tent itself as our booth, leaving us with only the space behind our banner for storage. Sure, we could have just left it at that and popped our boxes, brochures and briefcases in behind. But by adding orange curtains and some greenery, we gave ourselves even more behind-the-scenes storage and camouflaged it altogether in a stylish way.
Planning to participate in a trade show, conference or other event this year? We can help you come up with an impactful visual display from concept to execution, from the feel you want to the practical items you need, and from big ideas to the tiniest of details. Give CP Business Solutions a call!