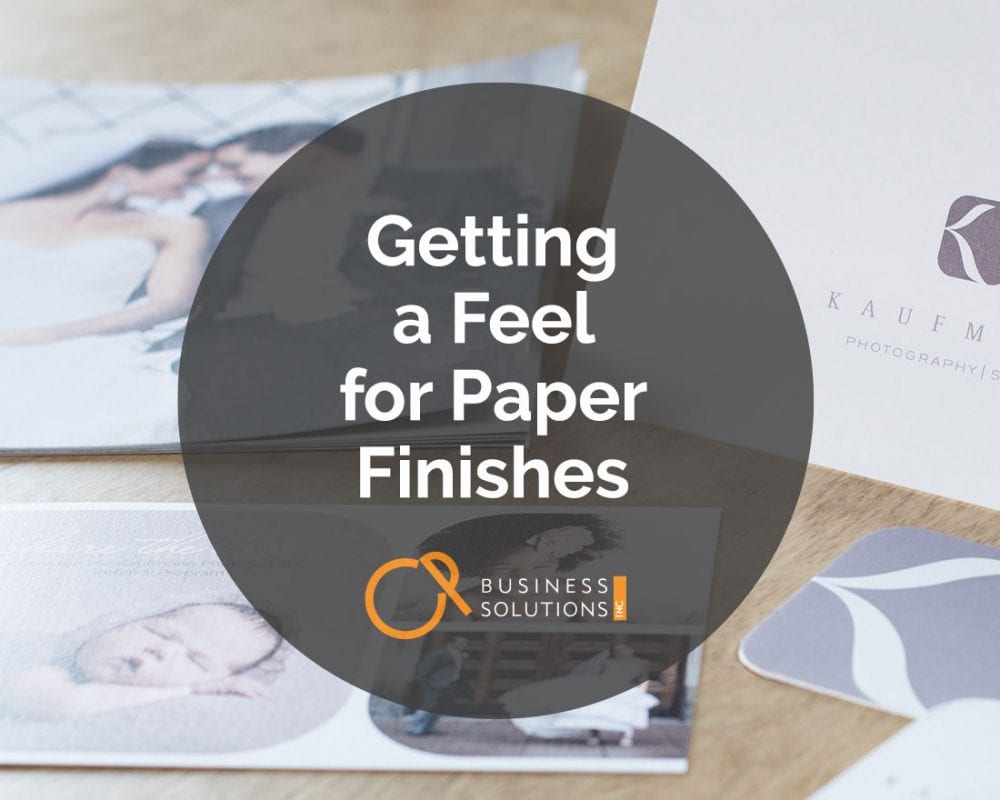 Not to show our age or anything, but remember back in the 80s when we were told that if we wanted to stand out in a crowd of job applicants we should print our resumes on something other than plain white paper? All of a sudden everyone was printing their cover letters and CVs on coloured, textured or patterned paper, making these most personal of documents look more like an arts and crafts project than an effective self-marketing tool.
Thankfully those days are over and the vast majority of jobs can now be applied for by email or online, eliminating the likelihood of distracting backgrounds or butterfly borders. But despite the prediction that we will eventually live in a paperless world, there is still a place for paper in the marketing world.
Touchy, Feely
From business cards and brochures to reports and posters, paper still reigns supreme. And while what you print is key, just as important is what you print it on.
While colour, size and thickness of the paper stock you choose all need to be taken into consideration, you might not have thought about the finish. Paper is a tactile product, and making conscious decisions about the finish can have a significant impact on both the look and feel (both literal and figurative) of your final product.
Coated vs. Uncoated
All paper falls into one of two categories: uncoated and coated.
Uncoated paper is non-reflective and very absorbent. It can be textured (like a linen finish) or smooth (like photocopy paper). It is usually used for things like newspapers/newsletters, standard envelopes, or inexpensive flyers or other products you want to be able to write on.
Coated paper has a surface coating applied to it to improve smoothness and reduce absorbency so that text and images are sharper and denser. Coatings can range from matte (dull) to super glossy (smooth and shiny).
Sample Paper Finishes
Paper finishing techniques and processes can vary. Here are just a few of the many available finishes that you may or may not have heard of.
Matte: Smooth and non-shiny. Excellent colour contrast, text clarity and readability. Very versatile.
Silk: Smooth and soft, with no reflection. High image quality and readability. Great for brochures and booklets.
Pearl/Satin: Soft sheen with low glare. Often used for weddings or other formal events.
Glossy: Smooth, very shiny/reflective finish, with vivid colours and vibrant images. Best used on products with full colour designs and minimal text.
Aqueous: A protective coating that can range from matte to high gloss. Protects the surface from smudges and fingerprints. Normally applied to the entire product (such as the fronts of postcards or business cards).
UV: Super high-gloss. Vibrant and very reflective. Often used as a spot application on matte products for a decorative effect (such as on a logo).
Foil: A metallic (copper/silver/gold, etc.) finish. Can be used to add a reflective/luxurious feel to products. Colour-matched foil is also available.
Feeling Good!
While the 80s may have been a regrettable decade in terms of fashion, décor, and yes, even paper, we don't want you to regret anything about your marketing products. We're here to help you along the way, give you lots of options, and answer any questions you may have. And, ultimately, to feel good about everything from the look to the feel of your finished product.