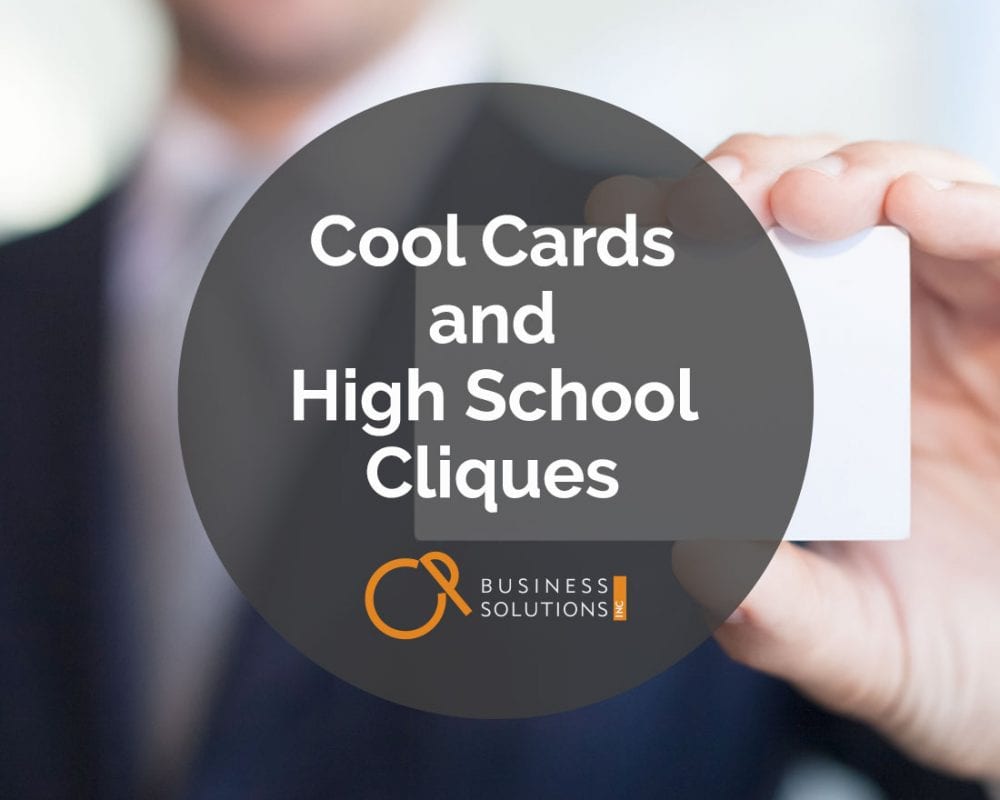 High school was a quirky time of awkward dances, strange fashions and weird social cliques. One thing was sure though – everyone knew what group you were in. The messaging was clear.
Just as your choice in friends said a lot about you in high school, your business cards speaks volumes about your business today – so make sure they are speaking clearly.
Business card options can vary as widely as high school cliques. You may want your cards to be in with the Cool Kids, but the Audio Visual and Yearbook Clubs need to be represented, too.
At CP Business Solutions Inc., we work closely with you, our clients, to discover the message you want to convey and the manner in which to share it. Business cards are so much more than a piece of paper with your phone number. They could be your ticket into the inner circle or even the right club.
Audio Visual Club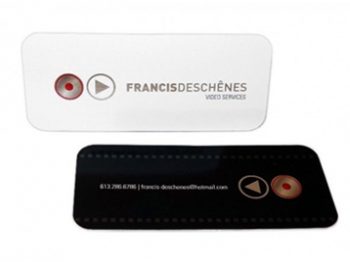 Francis Deschênes is a cutting edge, professional videographer, director and editor. He needed cards that were as unique and professional as his work.
These custom cards were cut  to resemble the shape of a film strip and through the use of spot varnish and Akufoil, we were able to create a modern, yet retro feeling of traditional film meets current technology.
He now has the coolest cards in the club.
Woodworking Club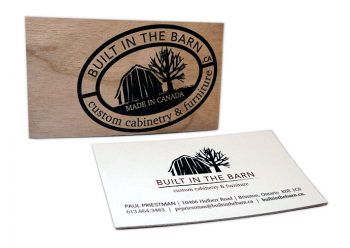 Built in the Barn – We started with photos of the actual barn and reworked them into a sketched version for the logo. The final business cards are branded onto a wooden, cherry veneer so they really stand out.
This technique worked well for this custom cabinet maker. His cards are memorable, unique and clearly represent his industry.
Check out www.BuiltintheBarn.ca for your custom cabinetry and kitchen needs. The quality of their work is incredible and it really is "built in the barn."
The Jocks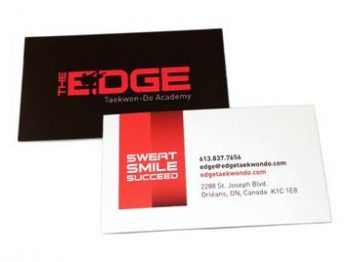 If you know how it was made – you'll understand why this design was so personal.
He started doing Taekwon-Do at the age of 5 and now owns a number of schools. We captured the perfect image of Mr. Joël Denis, owner of the EDGE Taekwon-Do Academy and then we embedded the photo into the logo.
The black, logo side of the cards is strong and powerful. The reverse side shares the schools' motto, "Sweat, Smile, Succeed," which not only motivates his students, but also showcases Joël's teaching philosophy.
These cards are truly personal and there is no doubt that they represent a school of serious jocks!
Auto Shop Club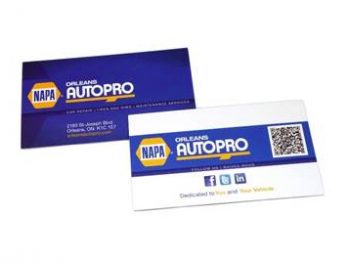 Orleans Autopro was looking for a brand refresh. Because they are a Napa Autopro garage, we had to adhere to certain guidelines and standards – not a problem at all.
Whether creating a completely new look or refreshing and existing brand, we can work with you to achieve great results.
We incorporated social media as well as basic contact information into their business card allowing customers to stay connected in a variety of ways. The addition of a silk finish to these cards resulted in a feeling of luxury and it helps the Orleans Autopro stand out as a quality automotive business.
Yearbook Club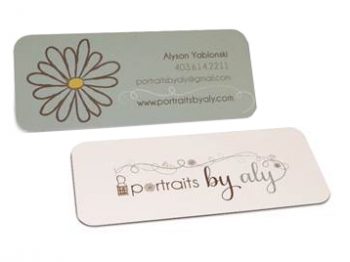 Portraits by Aly – We love working with photographers and they sure can make or break a yearbook!
Alyson is a photographer in Alberta who specializes in newborn, children and family photos. We wanted to be sure that her cards reflected her love for little ones, so we designed little cards.
We kept the design whimsical and light to reflect her personality and the ease with which she can keep children comfortable during a shoot. These fun cards have been a hit with her clients and the unique size and shape makes them stand out in the photography industry out west.
The Cheerleaders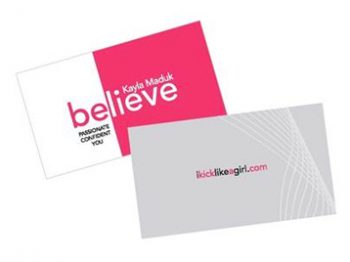 Kayla Maduk founded the BELIEVE project a number of years ago to empower girls and young women.
Since the project began, she has delivered numerous talks and workshops that have inspired girls to reach for their personal best.
We designed Kayla's cards in her signature bright pink and also supplied her with hoodies, bookmarks, a vertical banner, a custom table cloth and numerous accessories.
She's all set to cheer her way into the hearts of young girls across the country!
Cliques were everywhere in high school. Whether you were a jock, the teacher's pet, or president of the AV Club, CP Business Solutions can help you create business cards that share your message in a language you and your customers can understand – no matter the generation.
Contact us, we'd love to help!
Author's note: In case you were wondering… Yearbook Club, basketball team, swimming instructor and lifeguard.